Application Download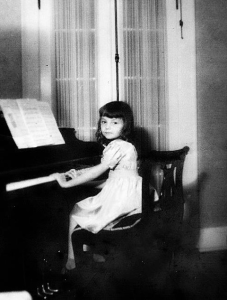 The Lynn Celestin Memorial Scholarship Fund will benefit one student per year who is currently taking piano lessons from a teacher at Hall Piano Company's Music Academy in Metairie, LA. The scholarship will provide a stipend to help cover the cost of private piano lessons for one year.
With your help, we hope to make this a self-sustaining scholarship that will benefit students for many years to come. We have already reached 25% of our goal, but we need your help to raise the remaining 75%. We understand that not everyone is in the position to give at this time, but any amount can help. If you are able to contribute at this time, you may donate by check, credit card, or online via our website. Please include your completed donation card with your check in order to receive acknowledgement of your donation for your records. The Steinway Society of New Orleans is a 501(c) 3, and all donations are tax deductible.
When I began teaching private piano lessons as a teenager, I discovered an appreciation for my childhood piano teacher's dedication, persistence, and kind support. It was not until I became a teacher that I fully realized the effect Mrs. Lynn Celestin had on me and my music career, and without Mrs. Lynn, I would never have accomplished what she began instilling in me as a child.
At the tender age of five, I confidently decided that I already had quite a bit more knowledge of the piano than my mother, the professional pianist and piano teacher. Upon my mastery of the great musical composition, "Baby Circus Elephants" by William Gillock, my mother decided that it was in the best interest of the entire family's mental health that she pass on my musical education to someone more qualified to manage my "genius." Luckily, she placed me under the tutelage of Mrs. Lynn Celestin, a family friend and highly regarded piano teacher in the New Orleans area.
My journey with Mrs. Lynn took both of us through tears, slammed doors, laugher, and an exorbitant amount of storytelling. Mrs. Lynn was patient at my most willful times and tough at the times when I needed it most. Above all, she was understanding, kind, and encouraging. Through the lessons she endured in which I had obviously not touched a piano in weeks and the fits of frustration I would pitch when denied immediate gratification, she continued to smile and managed to still endear the piano to me. With the advent of my private studio roughly ten years ago, I realized how hard Mrs. Lynn worked to make me realize my own potential and appreciate the process. Some 23 years after I began studying with Mrs. Lynn, I still find myself sharing her techniques, witticisms, and stories with students, as I am confident many of her other students do, as well.
Teaching music for a living is not a career path that people choose because it is easy. Those who pursue it wake up every day knowing that a day of teaching may take one through the entire range of emotions, only to wake up and do it again the next day. Mrs. Lynn did this for over sixty years, unfailingly with a smile and a gentle touch that encouraged many of her students to follow suit.
It is because of this dedication and ability to help young students see the best in themselves that I, with the help of my mother Peggy Fransen and fellow student Emily McWilliams, am founding a scholarship fund to honor Mrs. Lynn's memory and support students who represent the qualities that Mrs. Lynn fostered in her students. In conjunction with Hall Piano Company and the Steinway Society of New Orleans, I am pleased to announce the Lynn Celestin Memorial Scholarship Fund.
- Emily Fransen, Hall Piano Music Academy Director
2016-2017 Recipient: Vicky Chen
2015-2016 Recipient: Destiny Sanders
2014-2015 Recipient: Kaitlyn Tholen